Setting a goal and working toward that goal is an important life skill. This year's Read-a-thon will focus on goal-setting and celebrating ALL students who MEET OR BEAT their goal!
According to Education World, there are six key secrets to successful goal setting that you can communicate to your students:
Write clear and measurable goals.
Create a specific action plan for each goal.
Read your goals daily and visualize yourself accomplishing them.
Reflect on your progress to see if you are on target.
Revise your action plans if needed.
Celebrate your accomplishments.
Our goal suggestions are below. Just a reminder that ALL reading counts, even Audio books or having an adult read to the student. In class, out of class….all reading should be celebrated!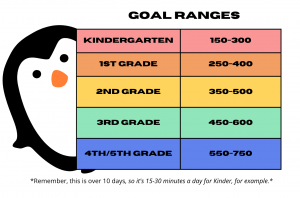 Once your student has selected a realistic, challenging goal, help them register it here.

For fun, you can track the goal at home with your student with this Goal Tracker. Remember to log and submit their minutes to recognize all this hard work. Good luck!