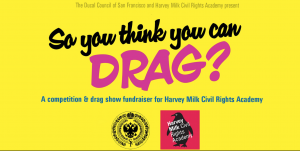 This is one of HMCRA's largest and most fun fundraisers of the year! This adult-only fundraiser event features professional drag queen performers alongside parents, friends and community members performing drag for the first time as well as a silent auction with many incredible items and experiences to bid on!
So, You Think You Can Drag Website
Drag Show Silent Auction Donations
Email Kate at dragshow@harveymilkpfc.org to join the committee mailing list, or with any questions.
Want to know what past events were like?
Shelter In Place didn't stop the show in 2020. The drag show went virtual! You can view the winning performance, from  Miss Information (AKA Mr Swick) here.