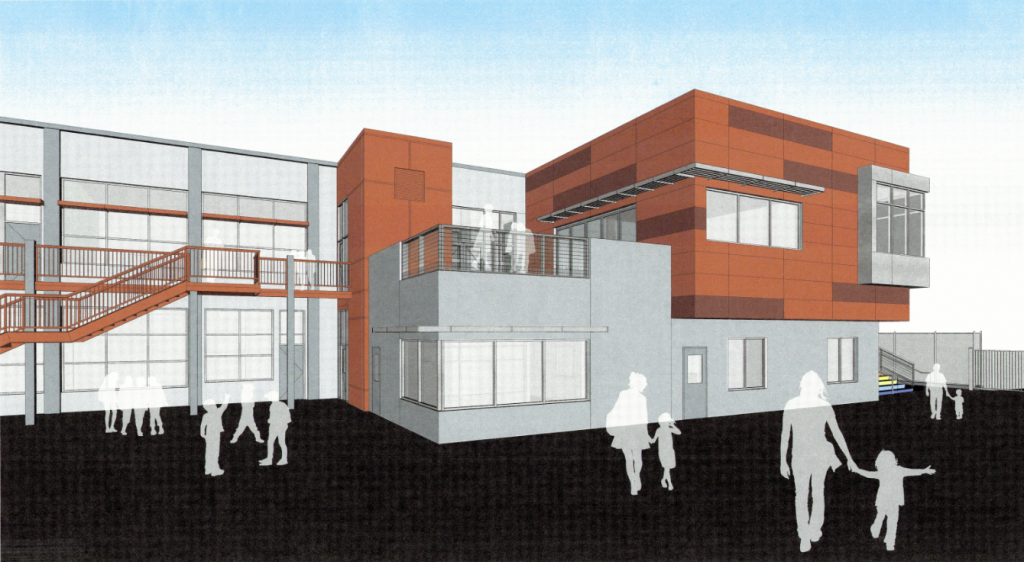 Updates from the Construction Manager
December 17, 2019
Phase 2 is nearly complete!
The final coat of plastering on the exterior of the New Addition is being applied today and painting of the Addition will follow. Electrical, mechanical, and plumbing work is complete in the New Addition. New cabinets, shelving, and storage has been built and installed at the new administration area and the Media Room. Vinyl flooring and acoustic ceiling tiles have been installed through-out the New Addition. The new stairs to the Media Room have been erected and handrail and railing fabrication is in progress. The new Learning Deck is almost complete and is in the process of receiving roofing and pavers. Windows for the New Addition, as well as Classrooms 112 and 113, have arrived onsite and are currently being installed.
Renovation of Classrooms 112 and 113 is also going well. The classrooms' walls have been refinished and a new ceilings have been installed. The classrooms have also received new vinyl flooring. New electrical, mechanical, and plumbing connections have been made and light fixtures are being installed.
Although some minor, miscellaneous work will continue during Winter Break, the students are scheduled to move into their new locations December 19, 2019. Demolition and abatement for Phase 3, which includes Classrooms 201, 202, and 212 and student and staff restrooms, will also take place during Winter Break.
---
October 22nd
Construction is going well. Exterior framing, as well as electrical and plumbing rough-ins, and the new two-story administration addition is complete. Currently, we are installing exterior sheathing, sheet membrane, interior framing, TPO roofing, and mechanical equipment. Anticipated upcoming construction for the New Addition includes installation of fiber cement paneling, plaster and drywall.
In Classrooms 112 and 113, drywall installation and plastering are complete. Plumbing, electrical, and fire sprinkler rough-ins are also complete. Electrical devices are currently being installed, and window openings are being prepared for new windows. Soon, the interior walls of the two classrooms will be painted. Upcoming work for Classrooms 112 and 113 also includes installation of acoustic ceiling tiles, casework, and vinyl flooring.
---
September 16th
Phase 1 of the school modernization project is complete! Construction of the new Flex Room area, including two new student restrooms, is complete. Furthermore, four storage rooms in the basement have been updated for custodial, Parent Faculty Club, Breakfast Club, and laundry use.
Erection of the new two-story administration addition is well underway; its steel frame has been erected, and the final bolting/welding of the structural steel is currently taking place. Metal decking installation has begun and wall framing and electrical/mechanical/plumbing rough-ins shall follow.
Furthermore, installation of new electrical, mechanical, and HVAC piping in Classrooms 112 and 113 is currently taking place.  The rooms will soon receive backing in walls in preparation for new cabinets and markerboards.
---
We hope you had an enjoyable summer! While students have been on break there has been a significant amount of construction at Harvey Milk. We are very excited about our new Library/Media Room, administrative offices and many other school-wide improvements.
View a detailed presentation (pdf) by Gould Evans, the project architects.
We recognize that we will all need time to adjust to working and learning at a school in transition. Information, plans, schedule and other information about our Prop A Bond Program improvements are below.
Please feel free to direct questions, comments and concerns to construction@harveymilk.com or talk to any one of our parent volunteers on the construction committee:
Randi Johnsen (parent of 2nd grader and 4th grader)
Sabine van der Sluis (parent of 1st grader and 5th grader)
Sven van der Sluis (parent of 1st grader and 5th grader)
Todd Bennett (parent of Kinder and 4th grader)
We are looking for volunteers to work with our 2019-2020 room parents (TBA) to help our teachers, students and staff improve our inside and outside spaces in transition. Reach out to us at garden@harveymilk.com, or construction@harveymilk.com if you can help!

---
Work completed Summer of 2019
Following is a summary of the work that was completed this summer:
Basement
Completed demolition required for construction of the new Flex Room area.
Completed structural and seismic upgrades at the Flex Room area.
Installed upgrades as part of new electrical service.
Began installing equipment for new low-voltage electrical systems which will eventually include new fire alarm system, new wired and wireless data system, new telephone system, new phone system, new clock/bell/PA system, new security system, new lighting controls, and new mechanical controls.
1st and 2nd Floors
Demolished the existing ceilings in the Corridors to provide access to install new utilities for the Modernization including new domestic water mains, roof drains, electrical, and HVAC piping.
Completed modernization of the Student Toilet Rooms on the first floor which includes new domestic water piping, new plumbing fixtures, new LED lighting, new ventilation, and new finishes.
Addition and Yard
Delivered and installed one temporary classroom building that will be used as a swing space for the Modernization project.
Completed earthwork including over-excavation and recompaction of the loose fill material from the old Douglass School yard to provide stable soil for construction of the Addition.
Completed construction of deep foundations and retaining walls for revised access from the yard to the Flex Room and MPR (completion of this work will be ongoing with construction of the Addition).
Completed construction of drilled piers and footings for the Addition.
Began fabrication of structural steel framing for the addition.
Installed new roofing at the Classroom Building along with infrastructure for new HVAC equipment that will be installed as part of this project and infrastructure for future solar panels.
---
Construction work continuing after 2019 summer break
1st floor bathrooms by the elevator, boys and girls, will not be completed until the 2nd week of school due to a delay of delivery of the partitions.
Framing of new two story administration building
Classroom refurbishment of two west end classrooms to include new ceilings, lights, paint, flooring, heating and ventilation system
Work on seismic structural upgrades throughout the building
Upgrades to ventilation and technology systems
Overview of Construction Phasing (pdf)