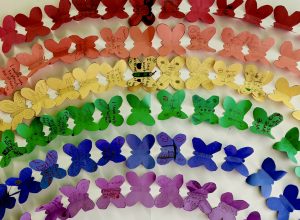 Tuesday, October 5, 3:45pm
We are pleased to announce Rainbow Club will start back up again in person this year!
Join HMCRA Rainbow Club for art, games, and community!
1st and 3rd Tuesdays of the month, 3:45-4:30
First Meeting: October 5th
Meet Ms. Butler at the Collingwood Gate at 3:45
Open to all students of LGBTQ+ families, trans or non-binary students and allies!
Meetings will take place outdoors masked because there will be kids across grade levels. It will only be open to students this year (we will miss families!) unless we are doing a special project and Ms. Butler asks for volunteers.
If you have any questions, please email butlerk@sfusd.edu.
Rainbow Clubs are Elementary School versions of a GSA (Gender Spectrum Alliance) used nationwide.