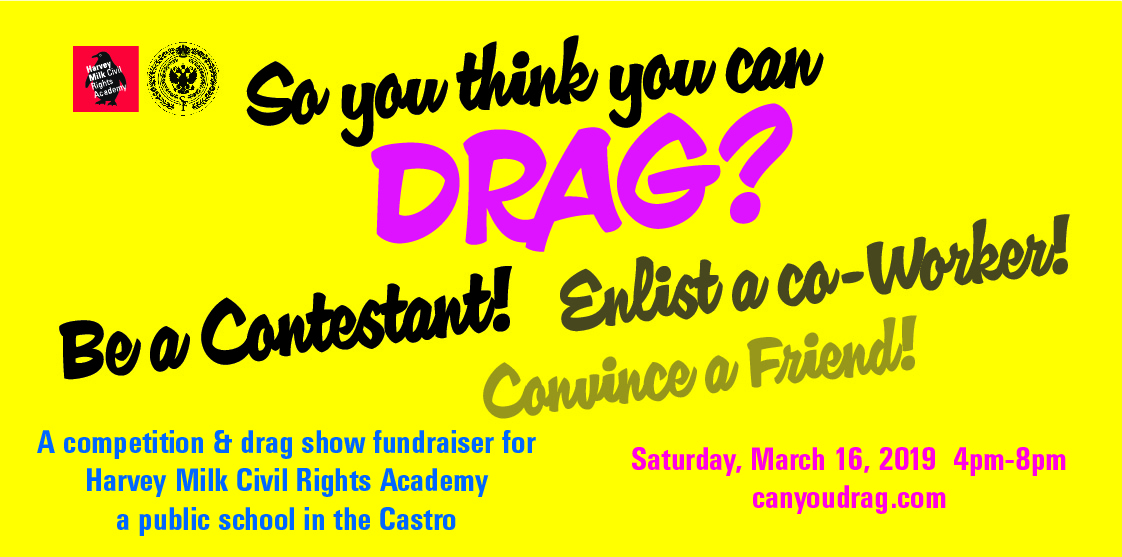 Getting contestants from our network of friends, co-workers, and Castro neighbors will help make this years' event an even bigger success!
Saturday, March 16, 4:00-8:00pm
at The Café, 2369 Market St. 
www.canyoudrag.com
Calling all contestants! Want to drag or know somebody who does? Sign up as a contestant [https://canyoudrag.com/i-want-to-perform/] to raise funds for Harvey Milk, and drag your heart out. Contestants will receive a dedicated page on the event website to share and fundraise. To get started as a contestant, email a photo headshot and short bio to Jeff Fassnacht at jeff@sobend.com
The TOP FIVE FUNDRAISERS will become performers at the event and compete for a chance to win the title of Queen of the Castro. The top three fundraisers will receive extra points toward their final competition score. The five top contestants will be matched with a local drag queen to have their makeup done and then perform a talent of their choice (lip-synch, singing, dance, etc.). Contact Kylie Minono at kylieminono@yahoo.com or 208-697-0551 with questions.
Childcare! There will be childcare and dinner at the school during the event. More info coming.