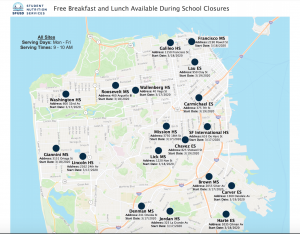 Beginning March 17, SFUSD will provide free breakfast and lunch to all children 18 and younger.
18 sites will be open Monday through Friday 9-10 a.m. to pick-up breakfast, lunch, fresh fruit, vegetables and milk to take home.
No identification or proof of school enrollment is required, but a child must be present. Shelf-stable meals will also be available. Families will not need to enter the school building for pick-up.
Also, beginning Monday, March 16, 2020, recreation centers and libraries will close to the public and operate as emergency care facilities for children of front line workers and low-income families.
More information is available here
https://www.dcyf.org/care