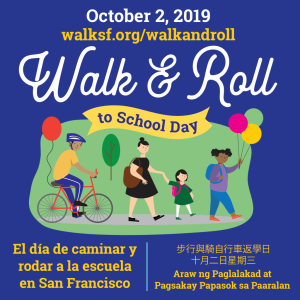 Harvey Milk Civil Rights Academy will be participating in Walk and Roll to School Day next Wednesday, October 2, 2019.
To take part, please meet in front of the Castro MUNI station at 9:00am with your bikes, scooters, or walking feet. We will leave from the MUNI station down Collingwood St. at 9:00am and form a Bike Train all the way to school. Bikers, rollers and walkers will be greeted at school with a small sticker and prize.
We look forward to walking and rolling to school with you!